1915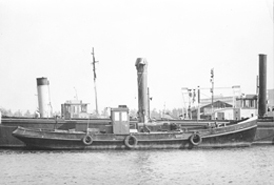 Constructed as a steam icebreaker tow in the Bolnes shipyard in Rotterdam.
Christened 'Fortuna'.
1918
Purchased by the Royal Dutch Navy to serve as a tow for their seaplane fleet.
Price paid was 36,000 Dutch Guilders. Registered under the name 'Sleepdienst 2'.
Five such ships were in service for the navy. In addition to this boat, it is believed only 1 other survived torpedoing during the Second World War. It is now preserved in the Royal Dutch Naval Museum in Den Helder.
1936
The entire hull was re-plated and re-riveted in the Rijkswerf Willemsoord in Den Helder by the navy and returned to service.
1942
Germany's Third Reich Navy commandeered the ship and used it to lay mines.
1945
Served to tow the Royal Dutch Yacht 'Piet Hein' from Scheveningen to Amsterdam with Queen Wilhelmina and the Royal Family on board as they returned from their exile in England after the liberation.
1947
Rechristened as 'RS03' to serve as a regional tow.
1949
Served as a tow for naval artillery targets.
1950
Set in service to support a guard ship. Name change to 'A843'.
1951
Set in service to support a naval transport vessel, 'Pelikaan'. A843's steam power provided the hot water to start Pelikaan's steam engine.
1953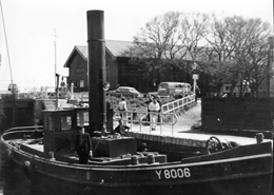 Name change to 'Y8006'.
1974
Served to deliver drinking water to naval vessels.
1977
Retired from the Royal Dutch Navy and sold to a trading company from Wormer, The Netherlands.
1980
Purchased by a private individual from Groningen, The Netherlands to be rebuilt as a motor-sailer/home for a family of 4.
1982
Two mast tower rigging completed with a 20 metre steel foremast and equal height wooden main mast.
Modern diesel engine installed.
Afterdeck raised. A large steering house and long running keel fitted to ship.
Name change to 'Ingrid'.
1995
Purchased by Jeroen Janssen who transformed the ship to its current condition at a shipbuilding yard in Groningen.
1998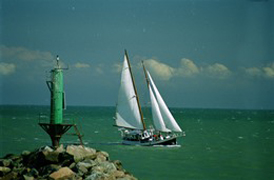 Name change to 'AnaGronisme' - sailing out of Groningen.
2002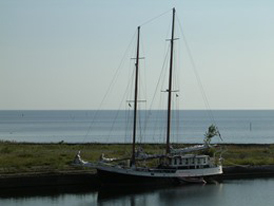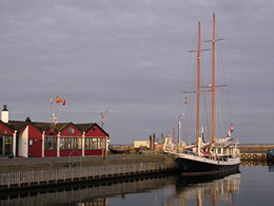 The ship's new profile emerged with its new schooner rigging of 220 metres of sail. The interiors underwent a complete metamorphosis to attain their present refined state.
2003
Sailed to the new mooring in Amsterdam Westerdock.
2004
A zeebrief was issued to the vessel with the number 7282 Z G 2004 under the name of 'Balder' of Amsterdam.
2005
The ship sailed to south Sweden to a new mooring in Skillinge harbour. 80 square metre genoa added to the rigging.